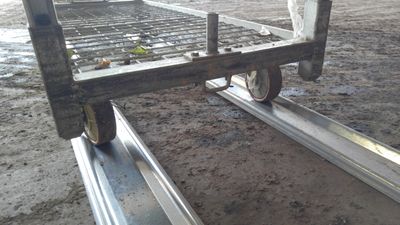 About our parts !
Parts for greenhouses, V&V Noordland greenhouses, Greenhouse systems , Repair bars for Venlo greenhouses, DeGier motors and drive systems, Alumat Zeeman parts. Shade systems shade fabric Ludvig Svensson USA Microgrow greenhouse systems
We carry all types of greenhouse drive systems !
We carry the DeGier drive systems motors and drive materials.
From couplings and limit switch parts to complete motor reduction gear units and rack & pinion system parts for both swinging vent systems and truss-rail vent systems.
DeGier GW motors in various HP and Rpm's available in different voltages for both 1phase and 3phase
Plant cart track system rails
We carry plant cart track rail systems. An easy to use track that will hold your carts in place and inline. The unique design let the swivel wheel turn around with ease, no damage to wheel.
This is a great alternative to concrete.
Inquire about delivery times and pricing
Further more
This web page will be updated with new info and more pages. Do not hesitate to contact us with questions about any parts not pictures or mentioned above
Call 631 872 7676 for info